Ask Bentley what this car represents and they'd probably tell you it is the entry point to the Continental GT range, a way of immersing yourself in the deep waters of Bentley design without getting entirely carried away and going for the full-fat W12 version.
Because twelve cylinders are clearly better than eight and, by the same reasoning, six litres must best four. Surely? Well we'll get to the rights and wrongs of that in a moment.
In the meantime what you're really looking at is Bentley's purest take on the GT theme. It's about as abused an acronym as exists in the automotive canon, especially if you allow it to be extended into 'GTI', but this is Bentley's take on the original concept: an expensive and exclusive luxury car (which is the Grand) designed for doing enormous distances without apparent strain either on itself or its occupants (which is the Touring).
To that end it deploys the aforementioned 4-litre, twin-turbo V8, taking it with a 542bhp power output, which is just 10 fewer horses than had the original 6-litre Continental GT in 2003. Then again it's still a little frustrating to know that the same engine has another 50bhp when fitted to the Audi RS6 which costs less than two thirds as much. Some may even lament the fact that with a little hybrid assistance, this engine can produce up to 670bhp and does so in the Porsche Panamera, which, lest we forget, sits on the same platform as the Bentley. I'm not one of them because in my experience the Porsche loses far more for the enormous additional weight of the hybrid drive than it gains in pure punch, so I'm just putting it out there.
Otherwise, things are as expected. The engine removes a useful 50kg from the nose of the Continental GT and the suspension has been tuned to reflect that fact, not to make it any more, or less sporting.
What's it like?
I last drove this car on the international launch in California and on jobs like that, as you wax lyrical about how well the car rides, there's always a nagging doubt lurking in the back of your mind, because we've all driven cars that behave one way on sun-kissed, super smooth roads chosen by their manufacturers, and quite another when forced to deal with the somewhat harsher reality of the British road network.
No need to have worried this time. I drove it up a Welsh mountain because I could, and both the primary and secondary ride were as good as anyone could reasonably expect a car like this. Nothing similar in my experience even comes close. It does feel a little more exposed in its handling though.
It's still highly capable, generates impressive grip and has well geared, well weighed and commendably accurate steering. But you do notice the sheer size and heft of car more here than there. Its closest rival – the Aston Martin DB11 AMR – is a car you feel you can lob at a corner, knowing it will have the balance and agility for any ensuing slide to be swiftly sorted. The Conti V8 is a car that's best kept within its broad limits, and if that means a dimension of driving pleasure is denied a certain sort of fairly rare customer, many will think it a price worth paying for its superlative comfort it provides instead.
And few, surely, will quibble with either the performance available from the engine or the way it is delivered. Knock the central controller into 'Sport' (or just choose loud exhausts from the individual settings) and every press of the throttle becomes a rumbling, thundering event. Turn it off and the car is limousine quiet.
Even so, there is stuff not to like in here: I wish it still had analogue dials, the switchgear on the centre console is far too cluttered and why anyone would pay thousands for a revolving dash panel whose only purpose beyond the theatrical is to provide information you either already have or for which you have no use, is completely beyond me.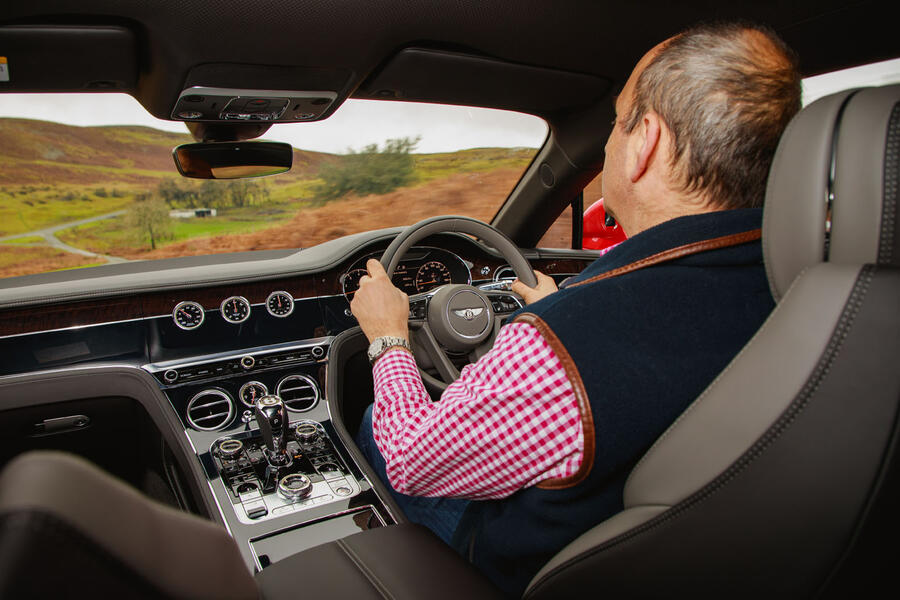 Should I buy one?
But none of that clouds the fact that this not just a fabulous car, but a great Bentley too. Greater even than its W12 stablemate? To me, there is no question.
For a tiny dent in performance you have an engine that sounds twice as good in a car that's better balanced, goes further on a tank of fuel, will make you feel slightly less like an environmental criminal and will save you a five figure sum when you buy.
I'll go further: no it's not as fun to drive as a DB11, but if what you're after is just the world's finest traditional Grand Tourer, the car as fast as it is quiet, as comfortable as it is deft and which feels as well built as a mass-produced car ever could, the Continental GT V8 is where the standard is set. And it will take something extraordinary to beat it.
Bentley Contintental V8 specification
Where
Wales
Price
£151,800
On sale
now
Engine
8 cyls, 3996cc, turbocharged, petrol
Power
542bhp at 5750rpm
Torque
568lb ft at 1950rpm
Gearbox
8-spd double-clutch automatic
Kerb weight
2194kg
Top speed
198mph
0-62mph
4.0sec
Fuel economy
23.9mpg
CO2
268g/km
Rivals
Aston Martin DB11 V8, Mercedes-AMG GT 63S