Tim Harvey nestles into the snug bucket seat and cracks that trademark toothy smile. He looks right at home, just as he should, because he's sitting in the very BMW M3 E30 in which he won the final round of the British Touring Car Championship way back in 1991. Tim has changed in the past 28 years (well, only a little), but the car hasn't.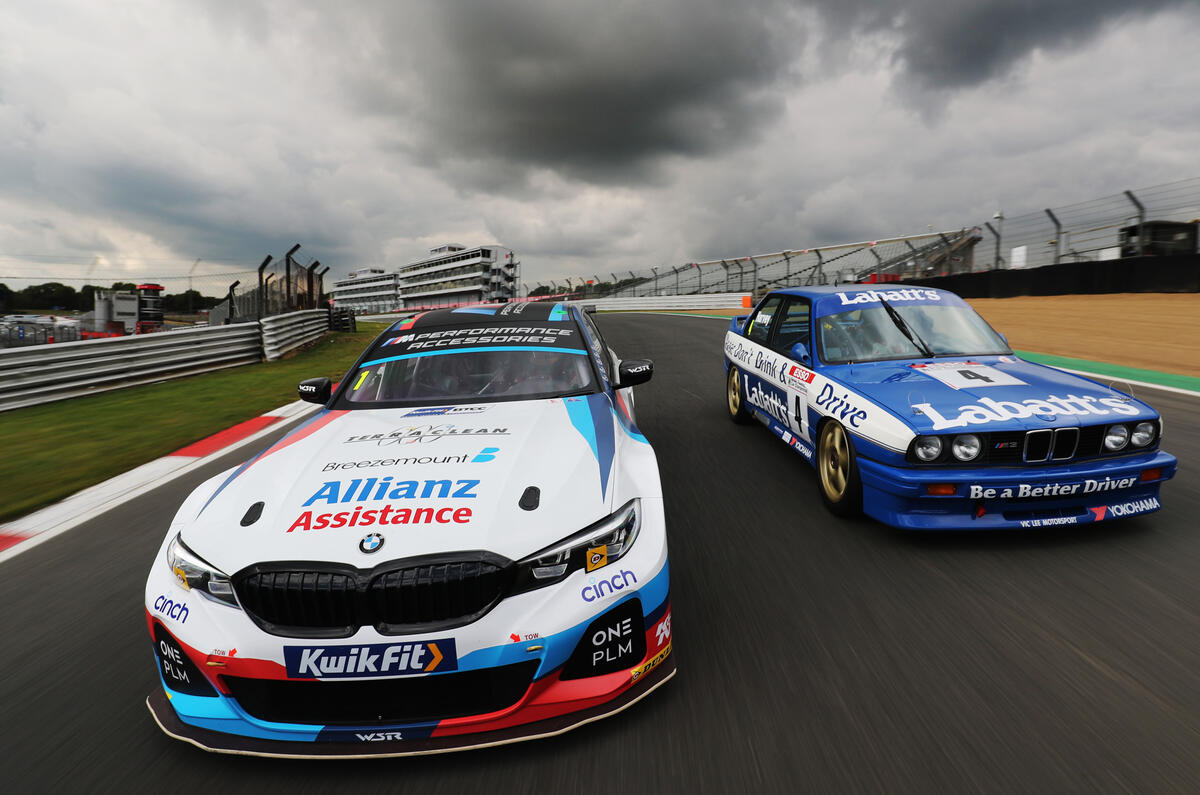 "It's a funny thing," he says after squeezing out to admire the E30, resplendent in Vic Lee Motorsport's iconic Labatt's beer livery. "I was transported back in time. It was the smell. I can't remember what I had for breakfast this morning, but when I got in there was that whiff of paint off the transmission tunnel, where it always used to burn. I haven't sat in this car since I stepped out in the winner's enclosure at Silverstone after that last race of '91."
Sitting beside the E30 in the Brands Hatch pitlane is another BMW, but one that dwarfs the perfectly proportioned three-box M3. It looks wide and burly, but it's special too, because this G20 330i M Sport just happens to have just won this year's BTCC. And there, looking on, is its driver: newly-crowned four-time BTCC champion, Colin Turkington.
The cars contrast in size and so do their drivers, but vice versa… 1992 BTCC champion Harvey was never exactly – ahem – a waif, while Turkington is the archetype of the lithe, modern racing pro. Hips, Colin. Do you even know what they are? He's not exactly short, but he is tiny.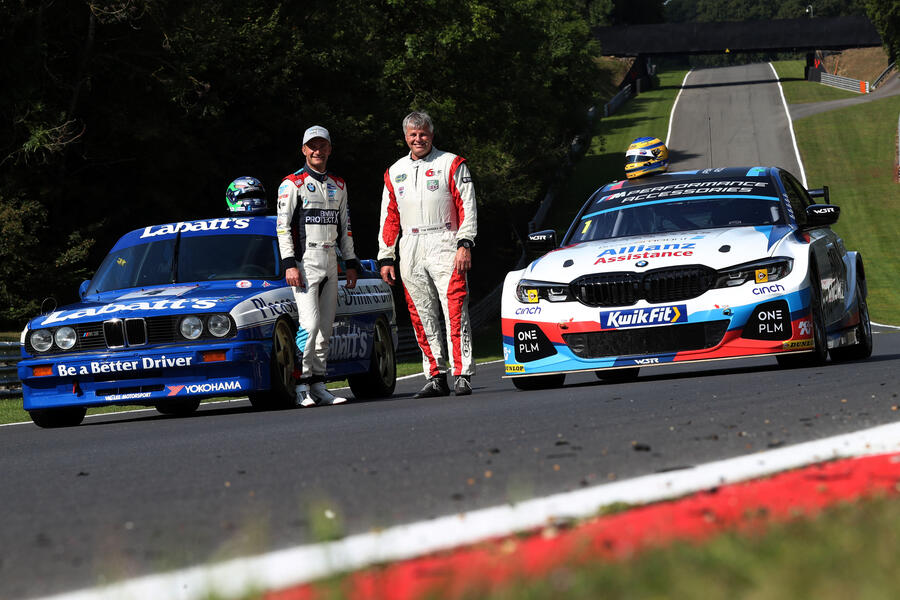 This is a special day, a chance to compare and contrast two eras, away from a hectic race weekend. The blue M3 represents the start of something massive: 1991 heralded the opening salvos of the Super Touring wars. Soon, most of the major manufacturers would flock to the BTCC and make it, for a few years, the most competitive and exciting race series in the world. The larger, brand-new M3 represents what the BTCC has become: still a crowd-pleaser, still spectacular, but part of a motoring landscape that might as well be from a different planet.
Inevitably, both drivers are gagging to swap cars and have a blast. For Turkington, the E30 is far from a step into an unrecognisable past. The Northern Irishman, a genuine tin-top fan, has raced classic M3s before. Today he's in his element – as is Harvey.
"My dad has an E30 and I fell in love with it so much my wife and I used it as a wedding car!" says Colin as we gather to compare notes. "This is the era when I fell in love with the BTCC. The cars were cool, but it was the characters involved, too: the likes of Tim, John Cleland and so on."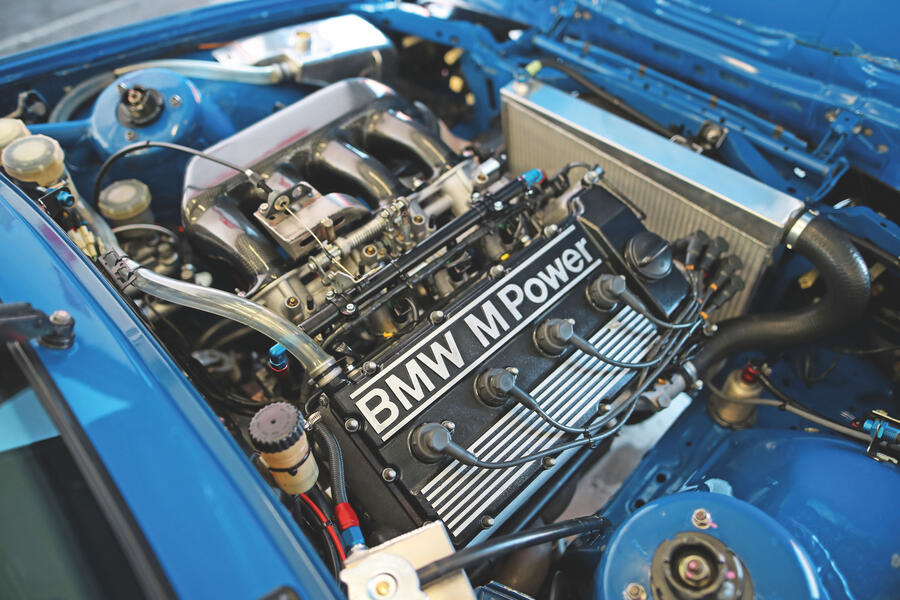 "In 1990 we'd been racing Group A Sierra RS500s," picks up Tim. "We went from 560bhp to a 2.0-litre with not much over 250bhp. It was a culture shock. Where the RS500 did all its business down the straights, the M3 did it all in the corners. You had to learn to hustle the car. All the driving was done on the brakes at corner entry, with a manual shift."
"I find the E30 more difficult to drive than my car," says Colin. "You don't have a six-speed sequential, you have a six-speed H-pattern. And there is no power steering, but there are pluses and minuses to that: the steering might be heavier, but you get really good feedback from the tyres.
"Physically you are working harder. I've raced E30s numerous times and I worry I'm not going to get to the end of the race because of arm pump! It's like riding a motocross bike, your arms are flaming. But I actively seek out racing these things..."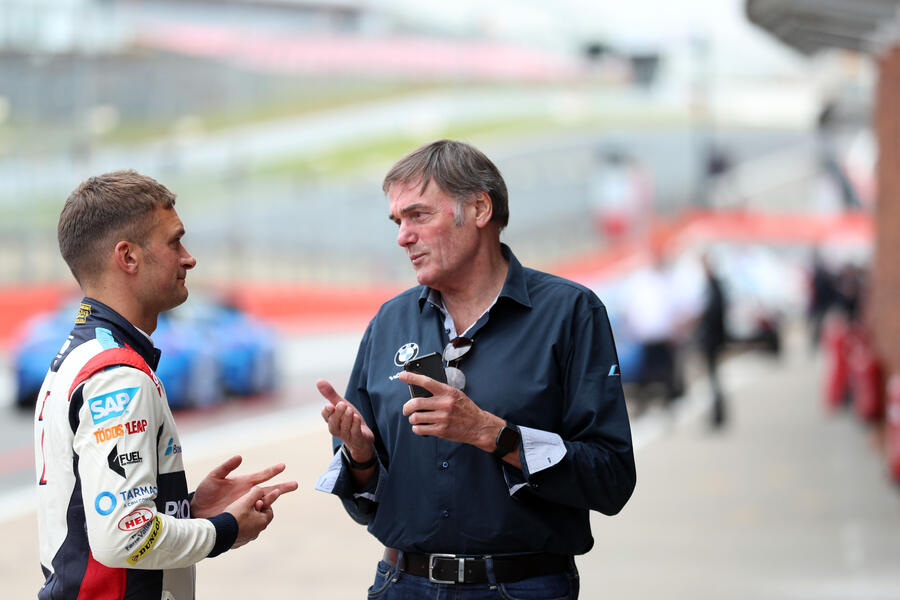 He then reveals something that catches me by surprise. How is your heel-and-toe technique? "I do it in my own car," he says. "It's a style that goes back to the E90 I raced back in 2008. We'd moved from six-speed sequential to five-speed H-pattern."
Oh. Why? "In 2007, with the six-speed sequential and rear-wheel drive we had to carry an additional 30kg of penalty weight," he says. "So by going to a five-speed H-pattern we could take most of that weight out. The rev drop was quite big going down the 'box, so I had to give it a good blip and that's been my style ever since."
Even having returned to a sequential 'box in recent years? "Yes," he says. "I'm a right-foot braker, not a left-foot braker. [Team-mates] Andy [Jordan] and Tom Oliphant, as left-foot brakers, tend to put the car on its nose a lot more and are more aggressive on the brake pedal. When it comes to setting up my car I require it to do a bit more in the turn-in phase."
For Harvey, the test offers a rare chance to try not only a modern car, but the modern car. Now co-commentator on ITV4's live BTCC coverage, the insight will be directly useful. So how did the current car compare with his lovely old E30?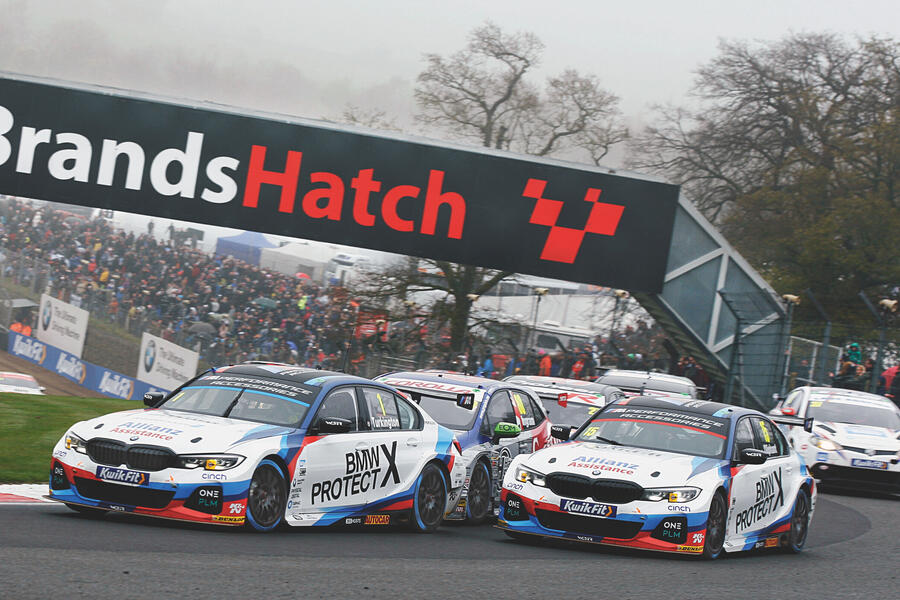 "It was the same but different," he says. "It's still a BMW 3 Series, still rear-wheel drive. But the differences are in terms of technology, feel, power, weight. Colin's car is 350kg heavier for a start [1300kg]. That's an awful lot of weight when you think 54kg is the maximum the BTCC adds for success ballast. So the E30 feels much more up on its toes, as if it's dancing. You're absolutely on it with lots of little control inputs. In Colin's car you feel that weight and it dumbs down responses. And given its size, Colin couldn't go for the gaps I could!
"But the engine is a lot more powerful, probably 100bhp more," says Harvey. The E30 today is running as a 2.5-litre, but the G20's 2.0-litre B48 engine, which pumps out 370bhp at 6500rpm, takes the modern car to another level. "It doesn't feel like a converted road car," says Tim, "it feels like a ground-up racing car."
As Harvey notes, Super Touring cars by the end of the decade had developed far beyond the converted road cars of 10 years earlier. For touring cars, the 1990s were the equivalent of the 1970s in Formula 1. Compare a Lotus 49 to a fully ground-effect Lotus 79: tin-tops underwent a similarly accelerated evolution thanks to big manufacturer spending power and the influence of aerodynamics.
Speaking of which, Turkington explains how the new 3 Series is a vast improvement on the 1 Series in which he claimed his third BTCC crown last year. "How is this car superior?" asks Tim.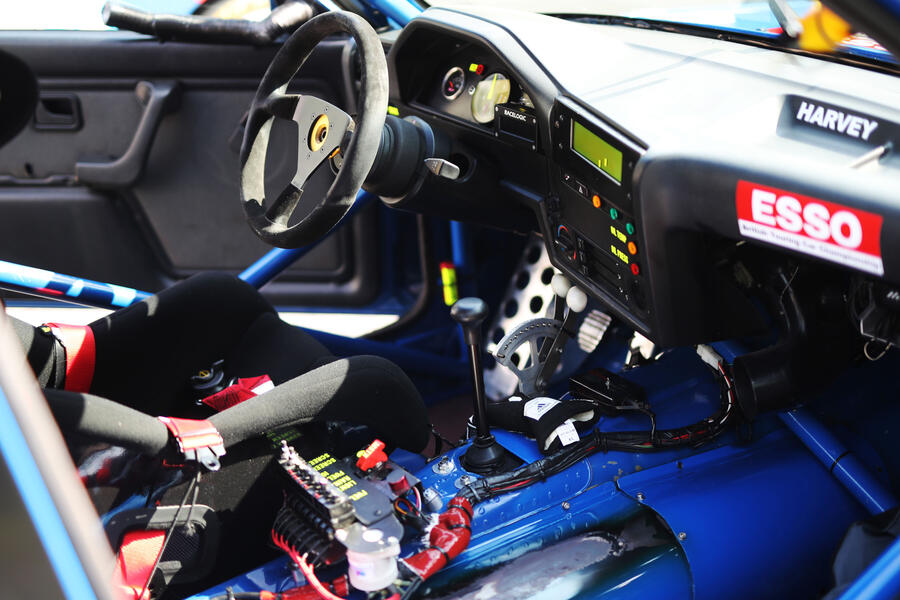 "High-speed stability," Colin shoots back. "The 1 Series hatchback was very strong in terms of stop, turn and go because of its short wheelbase. The difficulty was at high speed: through the quicker corners it was very snappy, it would just break away, and that affects your confidence, especially somewhere like Thruxton. With the saloon shape, you've got more stability and progression, so when a car does start to move it all happens a little slower. That's where we've had the gain."
Downforce is always king when it comes to comparing modern racing cars with older ones, and even in touring cars it's no different. "If you look back to the E30 it was non-existent," says Harvey. "It had a makeshift front splitter and the wing that was on the road car. It certainly never went near a wind tunnel. Whereas if you look at Colin's car there's a lot of subtle aero, which is making a difference.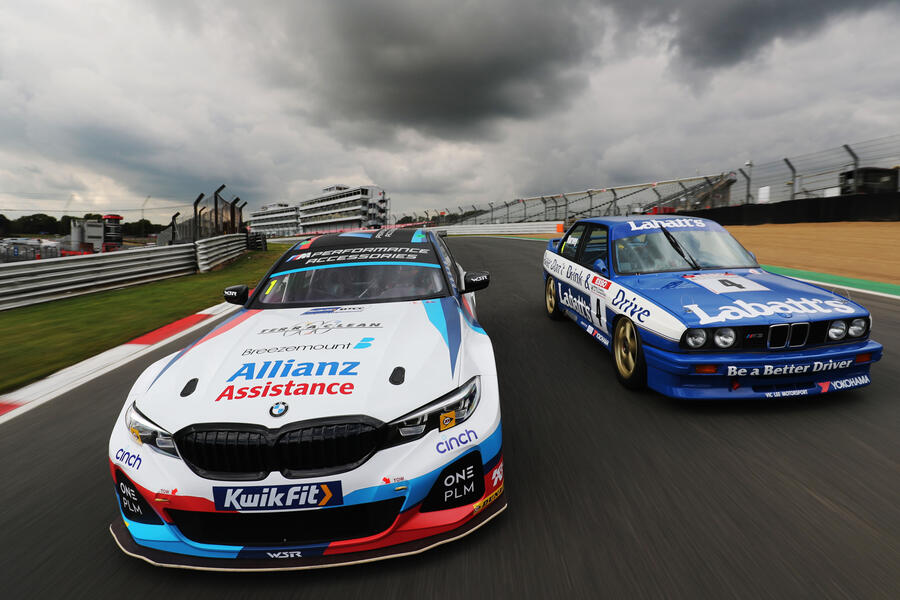 "It was a different world back then," he muses. "To contrast the 28-year gap between the cars shows just how much more professional things are now. Back then, we all camped together at the circuits in motorhomes, we shared a drink or two at night, it was much more matey. It was club racing compared to now."
Turkington describes a busy race day, with three starts to think about, as "massively intense". No wonder he keeps himself so trim. The physical appearance of these BMWs – and the drivers who pedal them – offers a microcosm of how our world has changed. Better back then? That depends entirely on your perspective. But between E30 and G20, a clear thread still ties these racing 3 Series together. You could call it the thread of progress.
3 Series road car to racer
It's no surprise that Dick Bennetts, legendary boss of the crack West Surrey Racing team that builds and runs the BTCC BMWs, turned up at Brands. He stalked the pitlane like an expectant father while Tim Harvey was out in his pride and joy. The test was four days before Colin Turkington would qualify the car at Knockhill. No pressure, then, Tim…
WSR joined the BTCC at the height of the Super Touring era in 1996, taking over the running of Ford's Mondeos. But it's been all BMWs since 2007 and the Sunbury-on-Thames squad is long established as the best in the business – as its astonishing form with the new G20 3 Series this year only confirms. "For a brand-new car straight out of the box, it's even surprised us," says Bennetts. The new 3 Series was unveiled in March – and it turns out WSR only saw it in the metal weeks earlier via a prototype borrowed from Munich. Such is the power of both CAD systems and the expertise within WSR, the lack of physical shells wasn't a disadvantage. Jordan scored the car's maiden win at the opening weekend at Brands in April, then Turkington added a pair at Donington, once he'd dialled the car in to his right-foot braking style. And the wins have just kept on coming.